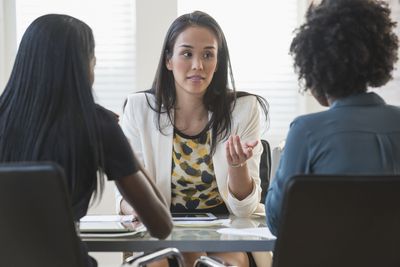 Many organizations balk at the idea of advertising salaries in job postings, believing that it will give them an upper hand in salary negotiations. One of the main problems with this practice according to human resources experts, is that it opens the door to salary discrimination, which puts companies at risk legally and financially. Earlier this year, the Department of Labor launched a lawsuit against Google for extreme gender pay discrimination. A class action suit by female employees is in the works. More recently, three Latina engineers have taken Uber to court for racial and gender bias, citing an employee ranking system that is not based on reliable measures and which favors white and Asian men.
Decades' worth of studies have demonstrated gender and racial bias in perception of qualifications and compensation. A 2017 report by McKinsey & Co. and Sheryl Sandberg's LeanIn.org found women of color bringing up the rear in the corporate world behind white men, men of color, and white women. Of course, salary transparency in job ads can't fix these systemic problems, but it can put an organization on the right track and shield it from accusations of bias. Listing compensation in job descriptions also saves having to wade through candidates who are too expensive. Writing in Forbes, corporate veteran Liz Ryan makes much the same point, citing additional ethical arguments.
Companies like Google and Uber might have plenty of lawyers and money to fight these suits, most organizations do not.